Birthday? Gotchaday? Something Unique?
Have a custom color or design in mind?  We can cut and decorate almost any shape and can even match your unique colors.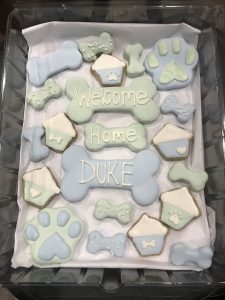 Make your brand memorable and delicious!  We can reproduce corporate logos and brand-specific elements for all types of events.
We can make gift baskets for every occasion or event.
The core of our gift baskets always starts with a heavy helping of our all-natural pet treats including decorated and bulk varieties. Special orders can customize the size and contents. Or: Give us a budget and we'll design a basket to match.
Paw Appetit gift baskets are perfect for:
Corporate events

Silent Auctions

Employee Appreciation Gifts

Secret Santa